5th & 6th grade Service Project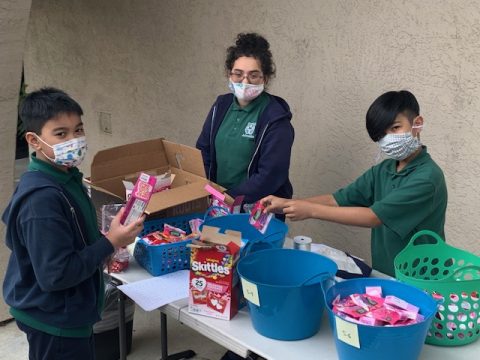 It was another sleepy morning in Bible class and we just finished listening to "Go Light your World" by Kathy Troccoli.  I skimmed our Bible Encounters Curriculum and rattled off my expectations for the class.  The directions were simple:  "Take out your Chromebooks, & research one of the following charitable organizations that was started by children.  Learn how the organization was started, discover how they make a difference in our world today, and report back to the class.  One could hear the clicks of the keys and the chatter of voices as they worked in small groups.  I planned to have each group present their findings, and then the class would vote on one organization that most inspired them. This would be our Light the World Project to complete our unit.  With a class of 11 students, I thought we could each bring in $5, & that would turn into a reasonable $55 donation for a year of hybrid learning.  But I've learned that students often dream bigger, think broader, and as a result, sometimes the teacher becomes the student!
One by one the groups presented their findings, and the class voted unanimously to support Kids Against Hunger Bay Area.  They were moved by an organization that provided food to families affected by COVID-19, as well as other world disasters like Tropical Storm Amanda in El Salvador.  I announced my plan for each student to bring in $5 .  Hands shot up like arrows..  
"$5 won't feed many kids.  We should do something bigger!"
"It's almost Valentine's Day.  Why don't we do a fundraiser."
"Yeah, we can sell candies and roses."
"I would totally buy candies for all my classmates."
"Let's make advertisement posters!"
It was a barrage of ideas, and these passionate students ran with the idea.  Before the end of the day, I had 3 different advertisement posters in hand and they were excited!  And the 5th & 6th grade Valentine's Day fundraiser was born.  Students figured out our base cost and determined our mark-up prices.  We posted flyers and sent emails to parents.  The orders started to come in, slowly at first, and more on the Monday before Valentine's Day.  Three of my students, Rafe Carpio, Andre An and Paola Gonzalez stayed after school for 3 hours on Thursday to fill the orders and sort the candies by class.  A friend from our local church volunteered to buy the roses wholesale and helped dethorn the roses for us.  
Not only that, but my students' enthusiasm was contagious!  It spread like wildfire.   We started to receive random donations from other parents and board members.  We celebrated our first $100 bill that arrived "just because".  Many of our donations came with notes that read, "Please tell your students to keep up the good work!" and "I love that you guys are doing something for others!"
The end result of our Valentine's Day fundraiser was a check to Kids Against Hunger for $562.19, just a bit more than the $55 I envisioned on my own.  I contacted Sherri Leal of Kids Against Hunger to tell her about our class project, and ask how they would like us to send the funds.  She responded by saying, "Wow!! That is awesome of your students.  Thank you so very much for teaching your students to think of others!"  Next Monday she will be joining our Zoom during Bible class to say "thank you" in person.  
Jesus said in Matthew 18:3 that we must become like little children if we are to enter the kingdom of Heaven.  My students continue to remind me to THINK BIG and love without limits. When we open our eyes and look for ways to help others, God always multiplies our efforts.  These are lessons that go beyond the textbook!